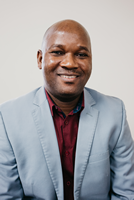 Welcome Message
Welcome to our second International Conference on Information Literacy better known as ICIL-AFRICA, which will be hosted by the North-West University, Potchefstroom, South Africa. We are very excited that we will be able to host this conference again following a period of uncertainty due to the COVID-19 pandemic. ICIL is a sister conference to the European Conference on Information Literacy (ECIL) and we hope to receive guests from all over the world. The conference theme is Information Literacy in the Fourth Industrial Revolution. With this theme, together with about 22 sub-themes, we are committed to delivering an exciting and very interactive conference, which not only responds to the 4IR but also predicts the future of Information Literacy, in a fast-changing information landscape. We have already received a number of abstracts and we expect to receive more in the coming few days. Although the conference is organised as both a virtual and in-person event, we hope to receive as many in-person guests as possible especially with the COVID-19 numbers of infections declining, and with restrictions having been removed recently. We are looking forward to having keynote speakers from America, Europe, Asia and the greater Africa. It is certainly a conference not to miss for policymakers, data, Information, & knowledge specialists, academics and researchers, among others. Please plan to join us in Potchefstroom, South Africa and enjoy the hospitality of our city and its caring people!
We can not wait to see you!
Dr. Mathew Moyo
Chief Director: Library and Information Service
North-West University
Conference Theme
Information Literacy in the Fourth Industrial Revolution.
Conference Aim
The ICIL-SA 2022 conference aims to bring together researchers, library and information services professionals, employers, media specialists, educators, policymakers and all other related parties from around the world to exchange knowledge and experience and to discuss recent developments and current challenges in both theory and practice.
Submission Types
Individual papers and posters
Proposals for both papers and posters are welcome. Abstracts of no more than 300 words including references for papers or posters should be submitted on the conference website. Papers will be 20 minutes with 10 minutes for discussion and questions.
PechaKucha
These sessions will cover work-in-progress reports, new developments, innovations and good practices. It is a short, very focused, visually appealing and inspiring narrated slide show (20 slides), 6 minutes 40-second length (20 seconds for each slide), and a 300-word abstract is required.
Doctoral forum
This section covers short papers either on a critical literature review of the research topic or research question(s), research objectives, research methodology and work done so far of ongoing work of PhD students. This provides an opportunity to gain valuable feedback from peers and subject-specific experts. The review process takes place in two phases. A 300-word abstract is required.
Panel discussions
Panel discussions will also be accommodated. These discussions should address a common theme. Furthermore, they will be scheduled for 90 minutes and may include a minimum of 3 and a maximum of 5 papers. In addition to individual proposals (of no more than 300 words each including references), please also submit an overview description of no more than 500 words (including references) with the panel's content and objectives.
General Conference Topics
Information literacy (IL) in the Artificial Intelligence (AI) sphere
Information literacy: Blended learning multi-literacies
Information literacy: Sustainable blended multi-literacies
From information literacy to multi-literacies
Wikipedia and information literacy
Data, information and knowledge literacy
Information literacy and digital empowerment
Information literacy and digital literacy
Information literacy and information and knowledge management
Information literacy and emerging technologies
Information literacy and active citizenship, democracy
Information literacy and ethics
Information literacy and education
Information literacy and open education
Open pedagogy, metaliteracy and self-directed learning
Information literacy and academic literacy
Information literacy and the decolonisation of the curriculum
Information literacy and social change
Information literacy, libraries, the public sphere
Information literacy in theoretical contexts
Media literacy in a time of war (Ukraine, Tigray, Yemen, Syria and others)
Information literacy and the Coronavirus pandemic
Important Dates
Conference date: 11 - 14 October 2022
Submissions close: Extended to 25 July 2022
Reviews: 16 May - 5 August 2022
Feedback on abstracts: From 15 July - 10 August 2022
Important Documents
Conference Series
Sister Conference