About
The Northwest University (NWU) Library Systems Department in Potchefstroom supports the technical requirements of all the NWU libraries in both Potchefstroom, Mafikeng and Vanderbijlpark. The department provides systems and services that advance the mission of the libraries. Among these are desktop support, technical functionalities, and enhancements to the library system. The purpose of the Systems Department is to implement and support technologies that will simplify processes for the library staff, enhance the user experience, and spur academic and educational success.
Manager Library Systems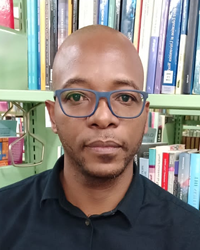 ​
Cecil Gasa
+27 (0)18 299 2801
Upcoming projects
A physical Bot will be available at the Ferdinand Postma Library by the end of 2023. Read more...
Service Catalogue
Library IT Support
This department forms the backbone or engine of the library. It is not only the department that supports all the other library departments but also directs the library's e-strategy as the driving force towards becoming a virtual, digital and multimedia library. Library IT support involves managing the information technology used in the library through knowledge of computer applications used in a library setting.
Meet our STAFF
WorldShare Managment Services (WMS) - Library Management System
WMS is a cloud-based library system that provides workflows, integrated resource management, and open access to data. It allows patrons to use library resources, place holds, and check out digital items. WMS ILS platform can integrate with multiple workflows such as e-Resource Management, Circulation, Cataloguing and Acquisitions.
Meet our STAFF
Boloka - Institutional Repository
It is the open-access Institutional Repository of the North West University (NWU-IR). This digital archive collects, preserves and distributes research material created by members of the NWU. The NWU-IR aims to increase the visibility, availability, and impact of the research output of the North-West University through Open Access, search engine indexing, and harvesting by several initiatives.
Meet our STAFF
Robot
NWU LIS is embracing the Fourth Industrial Revolution (4IR) by introducing the library's Artificial Intelligence (AI) systems. The physical library robot will take over mundane tasks and respond instantly to our library clients. The primary mission of library employees can be performed with greater accuracy and reliability. It will also help reduce labour requirements, time consumption and cost of library management.
Meet our STAFF
OJS - Open Journal Systems
OJS is an open-source software application used to manage and publish scholarly journals. It is a comprehensive tool for managing submissions, editorial workflow, and publishing articles and issues online.
Meet our STAFF
EZproxy - Password Management
EZproxy allows the library to deliver e-resources to NWU students and staff simply and securely, no matter where or when they're searching. This includes access to our subscription databases, e-journals and ebooks. It protects our patron's privacy and influences learning outcomes, making it a trusted tool in e-resource access and authentication. EZproxy provides the library with advanced analytics capabilities making it easy to understand better and communicate e-resource ROI.
Meet our STAFF
Web Services
The department is responsible for expanding and maintaining the following web services:
Meet our STAFF