Our Strategic Statement
To give effect to the University strategy by positioning the NWU Library and Information Service within the university's teaching-learning, research, and public engagement functions by providing access to world-class information resources and services.
Our Dream (Vision)
To be distinguished as a top university library in  Africa and beyond,  known for commitment to partnership in student success,  esteemed open scholarship and research.
Our Purpose (Mission)
The  NWU  Library and  Information  Service provides access to cutting-edge and impactful resources and services to fulfil the academic expectations of our user communities in a  professional,  creative and innovative manner.
Our Values
The LIS embeds the following foundational values based on the constitutional values of human dignity, equality and freedom and subscribes to the following client-focused values:
Ethics in all endeavours
Integrity
Accountability
Openness and transparency
Embracing diversity
Fairness
Strategic Plan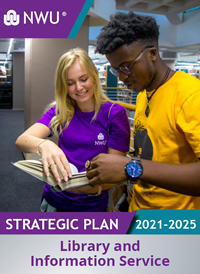 ​
​
Annual Reports
Strategic Plans
COVID-19
Policies and Guidelines
General
Loan Services
Information Services
Research and Open Scholarship Services
Information Resources
Library Systems
Quality Assurance
Purpose
The purpose of Quality Assurance (QA) in the LIS is to develop and establish procedures for monitoring, maintaining and promoting standards of library services, facilities and resources in alignment with the Library and Information Service strategic goals and support and advice from the NWU Quality Enhancement Office.
LIS Quality Manual
Quality assurance tools
Peer evaluations
Benchmarking visits
Benchmarking action plan
CHELSA
Quick links